Participation of the WENRA's Chair in the EUROSAFE 2021
25 Nov 2021 | 08:52 am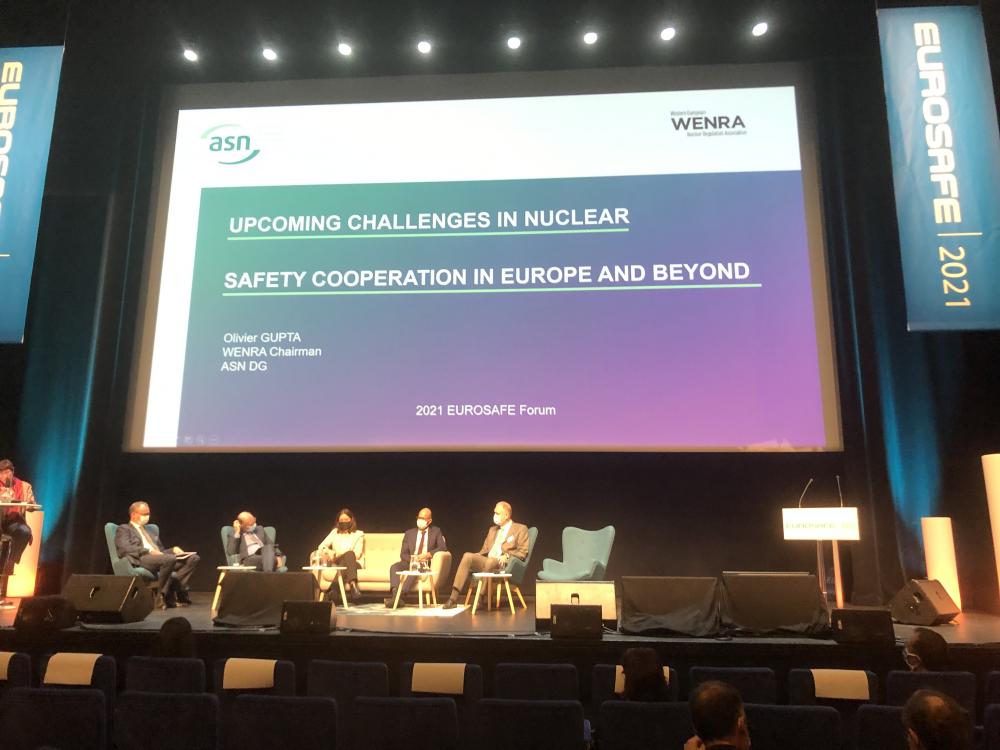 On the 23rd November 2021, Olivier Gupta was invited, as WENRA's Chairperson and ASN's Director General, to participate in the EUROSAFE 2021 organized by ETSON in Montrouge (France).
The purpose of the session where the WENRA's Chair intervened as a panelist was to exchange on the "upcoming challenges in nuclear safety cooperation in Europe and beyond".
O. Gupta mentioned that the environment in which nuclear safety authorities were regulating was evolving. He highlighted three main reasons for this change:
Stakeholders' focus shifting from improving safety after the Fukushima accident to having enough CO2 free electricity capacities.
The emergence of a new geopolitical context with a trend of some countries to favor national approaches.
The decreasing weight of Europe in the nuclear world.
Having said that, he addressed key messages regarding the way regulatory bodies and their technical support organizations should take into consideration this new environment. He mentioned:
The need to reinforce the implementation of a graded and transparent approach in all the regulatory processes, which requires to (i) concentrate resources on highest safety significant stakes, (ii) reinforce predictability of regulatory processes and (iii) be able to explain clearly regulatory decisions.
The need for regulators to express publicly their views on long term policy issues that may have a consequence on safety.
The need to intensify efforts to promote, internationally, the highest safety levels.
The Forum was an opportunity for the WENRA's Chair to remind the role of WENRA in building, over the 20 last years, a European safety doctrine and a concrete harmonization of the national regulatory frameworks.
In the field of harmonization, he added that he expects ETSON to play a key role in the convergence of safety evaluation practices and called for a strengthened relationship between WENRA and ETSON.
1The panel, moderated by Ms. Véronique Rouyer, head of the NEA Nuclear Safety Technology and Regulation division, was attended by Ms. Lydie Evrard (Deputy Director General, Head of the Department of Nuclear Safety and Security at the IAEA), Mr. Massimo Garribba (Deputy Director-General, Coordination of Euratom policy, European Commission) and Mr. Michel Van haesendonck, ETSON Vice-president, Director General of Bel V